Many people automatically assume that the most profitable upgrade you can make to your home is to update bathrooms and kitchens. However, according to a recent report, new garage doors help you to get the most bang for your buck when it comes to home improvement.
New Garage Doors Add Value in More Ways Than One
Practical
Improving your home with garage doors may not be at the top of your to-do list, but it's a sound and practical investment. For the amount of money it costs to replace them, your garage doors protect your home from intruders and the elements. Granite countertops in the guest bathroom can't offer that.
Stylish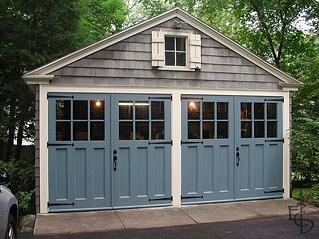 Have you ever driven by a house with spectacular garage doors? You'd be surprised at how much attention your home can get from upgrading your doors. From Overhead Door's modern Envy collection to classically beautiful carriage doors, new doors go a long way to adding curb appeal to your property. Not sure which doors are right for your home? Ask a member of our design team or play around in our design center to choose one that's right for you.
Financially Sound
According to Remodeling Magazine's 2017 Cost vs. Value report, installing a mid-range or upscale garage door has a great return on investment. Their comparison approach breaks down the cost of major home renovations and provides use and return statistics on each. Dollar for dollar, new garage doors are a relatively inexpensive home upgrade that not only gets quite a bit of use - it also provides a significant return on investment.
When it comes time for your next home improvement project, look into what's right for you. Consider installing new garage doors to make a big impact on your home's exterior appeal for significantly less than what it costs for other improvement projects. Set up your estimate today to start the path to new garage doors.