When you're purchasing from Overhead Door, no matter what door you choose, you can be assured you're purchasing quality and reliability. Our doors are durable and our service is unbeatable. When it comes to choosing a garage door, you need to shop for what will look best on your home. There are so many options, how can you choose? That's exactly why we've written a simple blog to help you! Take a look.
Choosing A Garage Door:
Modern Aluminum-This door gives you a simple, sleek, modern look.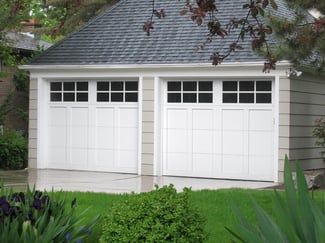 Courtyard Collection-This collection is built to resemble the traditional look of an elegant wood carriage home.
Traditional Panel-The raised panels on this door gives a fresh perspective to the eco-friendly design.
Signature Carriage-The wood composition and Amish design of this collection is sure to give you the welcoming look you're after.
Impression Collection-Get a wood look without the maintenance with this door. The fiberglass exterior is sure to make an impression.
Durafirm Collection-There is minimal maintenance involved in this vinyl skinned exterior, with less of a chance of dents and dings.
We hope our guide helps you when choosing a garage door. If you'd like to research further, we have the tools available for you to do so! Try out our visualization tool to give you an idea what each door will look like on your own home. And don't forget you can always request a FREE design consultation to have one of our design experts come out to help you decide!